The Penguin Digital Marketing Awards 2018
Is Jax an Award Winning dog? I think so, but how did this come about?
The Penguin Awards is described as: "Digital Marketing Awards that nobody asked for (but at least it's for charity)" 
It's also "the only Search Awards that you can attend in your pajamas"! At last! This event is the creative brainwork of a man called Dom Hodgson, a respected personality in the search arena (the use of arena has never felt more accurate!)
Rumour has it, they've acquired a job lot of previously awarded cheerleader trophies that they are planning to upcycle! That's Doms brilliant sense of humour glaring through (he is a comedian, after all!). If you don't know who Dom aka The Hodge is, you can find him here: https://twitter.com/TheHodge.
For more evidence of this, we only need to take a look at the categories. Thanks Dom, 2018 needed it!
The Award Categories
"These awards are here to celebrate the victories and commiserate the failures of working in search and remind ourselves not to take everything too seriously"
---
Most Unusual SEO Campaign (I bet you've worked on some weird ones.)
Sponsored by Erudite.
---
Worst Outreach Email (Either sent or received!)
Sponsored by IQSEO.
---
Best Office Dog (Bonus points for costumes)
Sponsored by Clockwork Talent.
---
Worst beard in Search (The person you nominate, has to be okay with this)
Sponsored by Polemic Digital
---
Best Thing Exchanged For A Link (Because nobody 'buys links' these days)
Sponsored by Firecask
---
Best SEO Lookalike (again same thing, get permission before you nominate)
Sponsored by Kerboo.
---
We've Not Won an Award Before! (Special category for people who haven't won an Award before!)
Sponsored by ManyMinds.com
---
Best Use Of A GIF Response In a Tweet (They expect this to get the most entries!)
Sponsored by SanityCheck
---
Most Unusual PPC Query (We're all a bit worried about what this will reveal, let's hope they can show them all!)
Sponsored by Biddable Moments.
---
Best Drunk Domain Name Purchase (We've all done it!)
Sponsored by DeepCrawl.
---
Best Teambuilding / Fundraising Activity (That isn't a stupid awards ceremony)
Sponsored by Reserved
---
Best Leeds based SEO tool with a Husband and Wife Cofounding Team and a Robot Running a Twitter Account ("The competition is tough for this one") – Watertight Dom!  
Sponsored by SiteBulb
---
Most Unusual Skill (Not work based) – "Sure you can rank sites, but can you juggle knives?"
Sponsored by 10 Yetis
---
Best Accidental Ranking (Did you get a dentist to rank for Tesco mobile longtail keywords?)
Sponsored by Stat.
---
Best Use of Fiverr (Maximum $5 budget)
Sponsored by NetworkMate.
---
Best SEO Joke ("Tickle our funny bone")
Sponsored by ScreamingFrog.
---
Best SEO Origin story – What were you doing before you joined SEO?
Sponsored by Steve from Majestic
---
Best Job Title (SEO rockstars / Ninjas need not apply – Be original!)
Sponsored by Exposure Ninja.
---
Best Side Project – Do you have an affiliate blog for pet dating? Have you built Uber for Horses?
Sponsored by Accountancy Extra.
---
Most Awesome Team Photo – "Be creative, I know you have it in you!"
Sponsored by SERPmetrics.com
---
We Really Really Really Want to Win This Award – This award will be available to bid via auction from the 13th of July until the ceremony starts!
Sponsored by Little Warden.
---
More information here: http://www.penguinawards.com/
Why all this wonderful shindigery?
This event is a part of the rundom.run campaign – now in year 3 – to support the Martin House Childrens Hospice.

The Martin House vision is
"Every child and young person has access to palliative care when and where they need it." and they provide 24-hour support to children and young people and their families.
Dom is also taking part in 3 half marathons, 5x 10k runs, and 5x 5k runs over the course of 2018 each in a unique costume. All entries to these awards go entirely to this cause, with Little Warden covering all additional costs such as trophies, hosting, editing, design, etc
Dom has quite the run lined up for September at Disneyland Paris with FOUR races in three days! Ok, one is a 100m race with Scarlett whilst dressed as Wreck it Ralph but we're still impressed! The other three include a 5k race on the 21st (same day as the 100m), a 10k race on the 22nd and a 21k half marathon on the 23rd. Ok Dom, now we're really impressed!
As of 15th July, there is still just under £1k left to raise, so get involved! 
You can follow the progress on JustGiving here. There are also some great pledge rewards if you fancy having some fun with Dom, check them out on rundom.run.
Bravo Dom! We admire and support your cause and the huge amount you have taken on in its pursuit. Wishing you the best of luck with it all and you'll smash your goals I'm sure!
The Awards Schedule
15th May 10:00am – Awards Open
21st July – Awards Close
30th July – Shortlist Announced
13th August – We really want to win an award auction opens
23rd August 15:00pm – Live Awards
The live awards 'ceremony' is on the 23rd August 2018 at 15:00, and will be live-streamed on the Little Warden Facebook page.
If you work in the industry and have a submission, please get involved – it's only £10 and all of the donation goes to the Martin House Childrens Hospice. 
So, what about Jax?
Ah Jax, the wonderful Jax. Well, given the criteria for the awards didn't appear to be overly stringent we felt that Jax was deserving and qualified for the Office Dog Award! Not to mention he is part of the #SEOdogs crew, with a double SEO heritage.
Jax kept me company at home while I was freelancing and now does the same for my fellow-SEO husband on the few days he works from home. Jax has an incredible personality and is very expressive, so his face really does tell a lot. Whilst he can drive me bonkers, I'd have likely gone insane without him!
It's not easy being away from him all day… 🙁




This was his face when I told him he had been entered!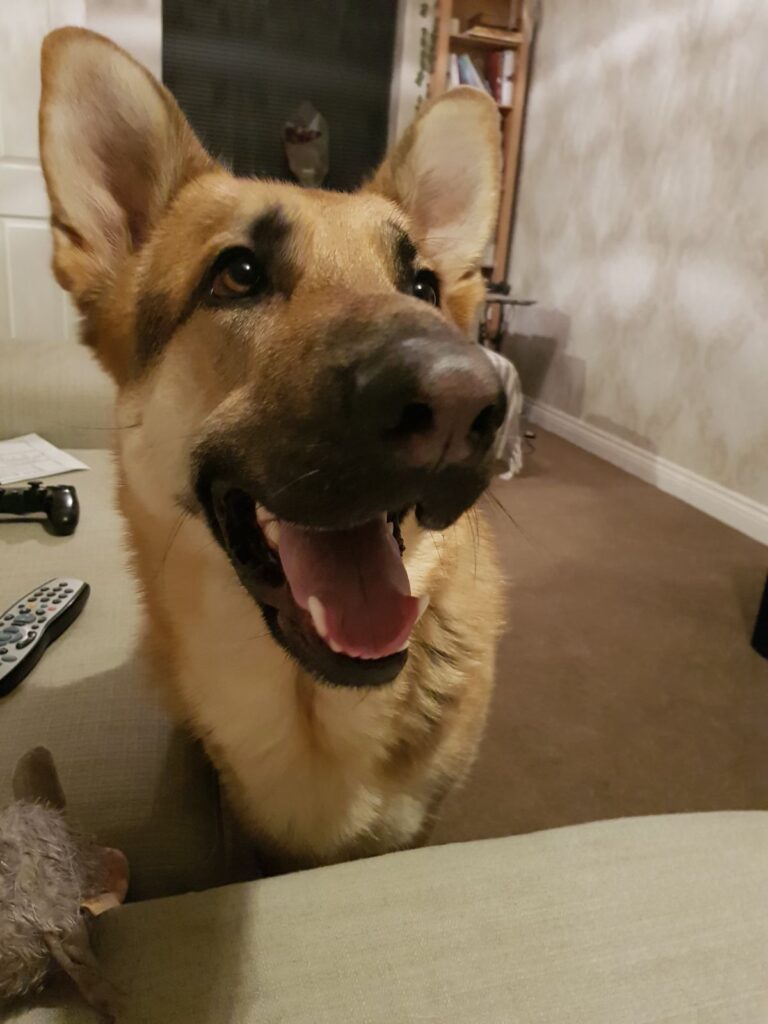 Jax has been entered for the Office Dog Award so we will find out if he made the shortlist on the 30th of July!
I expect there to be a lot of competition as there are many digital office dogs and we are a social bunch (not to mention #seodogs) and I am sure there are many people backing Dom with such a cause.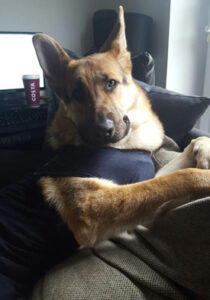 It hinted there were bonus points for the use of costumes but have you seen the size of our boy? You try getting him into a costume! I don't believe I've ever come across one that would have fit him! I wish I'd had time to get creative but hopefully, that face and those eyes will carry him through to the shortlist. The only photo I probably should have used was the photo of Jax in his medical suit, which is pretty much a babygro for dogs! ;D
This is Jax, #bossing his dog-gro!
Wish us luck! More about Jax Butler.
Other entries: 
Based on the kind suggestion by @Screamingfrog, I might just enter into the Best SEO Joke category. 😉 This was in response to me proudly tweeting about receiving my Screaming Frog tshirt!
? That kind of joke is perfect for the best SEO joke category at - https://t.co/x7ERr1zSLh! Good to see it arrived btw ??

— Screaming Frog (@screamingfrog) May 21, 2018