In 2020, I launched v1 of the Search Console Explorer Studio. The reception from the community was incredible. Thank you to each and every person who has taken the time out to thank me, buy me coffee, or shared / featured my work.
Its long overdue but I'm pleased to say V2 of the Search Console Explorer Studio is here!
This is a significant update and adds a lot of new functionality. The new core sections are:

I have embedded a Help Guide on the first page of the dashboard which covers everything you need to get started.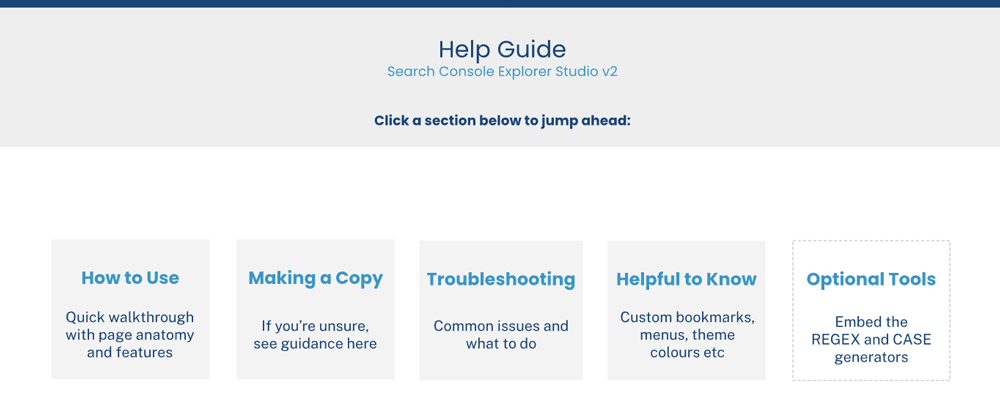 With all the information you need within the tool, I won't repeat the this here but lets explore a quick summary of what each section offers:
Features include:
– Explore your Search Console Data
Now with the option to toggle different comparison and aggregation options, you can explore your Search Console data with even more control. All of the features from v1 remain including performance summary, cumulative YoY performance, advanced search, device visibility, an optional Google Map and more.
– Extract your Search Console Data
An easy way to export your Search Console Data without the 1k row limit from the web interface. Advanced search and selections allow you to refine your data before you export if needed, along with a choice of comparison periods and whether you want Queries, URLs or both.
– Consolidate potential keyword cannibalisation
This section is designed to help you discover potential keyword cannibalisation. With Queries ordered by count of landing page and various trends available on page, you can leverage the interactive cross filtering to explore your data.
– Compare performance
A simple way to compare performance with options for Query or URLs performance side-by-side, or view Group Trends (12 per page). You can toggle Prev Period or Prev Year as needed.
– Find Opportunities
One of the most popular sections from v1, the Opportunities section has now been expanded to include an Explorer page for each grouping. Similar to the dynamics in the Consolidate section, you can click a Query shown in the bubble chart and see all impressed URLs below.
– Embedded Tools
To help you get the most from the advanced search functionality within this dashboard, two tools have been embedded within for you to easily generate REGEX and CASE statements as needed.
Note: You will need to make your own copy of the dashboard and follow the guidance provided to leverage the embedded functionality as I have needed to set my own versions to 'view only'. Once you own a copy, these will work from within the dashboard.
Things to Note
Due to the way that the custom navigation has been built, links may error if you navigate too quickly.
To overcome this I would need to link directly to the explicit paths however this would cause them to error on copy for everyone else. If the links cause you problems, I recommend either updating the link to the direct paths on your own copy or using the built-menu.
How Do I Use It?
A help guide is embedded within the dashboard – let me know if your concern is not covered.
Plug and Play by design!
It's built to be plug and play so you can select your website from the Google Search Console selector and it will come to life.
If you want to customise further, you can add your own datasource when you make a copy. See the Help Guide within the tool for more information.
Go to v2 of Search Console Explorer Studio
To download your own copy, click the link below.
Say Thanks by Sharing!
All social shares and tags are appreciated!
If this dashboard has helped you in any way please consider buying me a coffee!
Other Dashboards
You can see all my tools and dashboards here.
Where is the Google Sheets version?
You can find the Google Sheets version of the Search Console Explorer here.